Studio Setup 6
---
Studio Setup 6 shows how to combine 1 guitar, 1 keyboard, and 1 vocal in your home recording studio.
You'll notice a few things missing in this setup that you might expect including outboard effects, studio monitors, and amps.
Although they are missing they are not forgotten.
Here is how we'll handle their workload with what is shown.
Effects - We will use the DAW to provide any compression, EQ, amp modeling, etc. digitally.
Studio Monitors - The headphones will inherit the input monitoring of the recordings during the Tracking phase, as well as the mix down portion of the Mixing phase.
Guitar Amps - We're going to record direct into the Audio Interface by way of our trusty Direct Box... No amps needed.
This is the easiest way to get keys, acoustic, and vocals all recorded for just 1 musician.
If you're a solo musician who is equally at ease strumming a guitar and tickling the ivories then this setup is for you.
Also since the monitoring and mixing will be down through headphones this is also a Roommate/Neighbor favorite.
---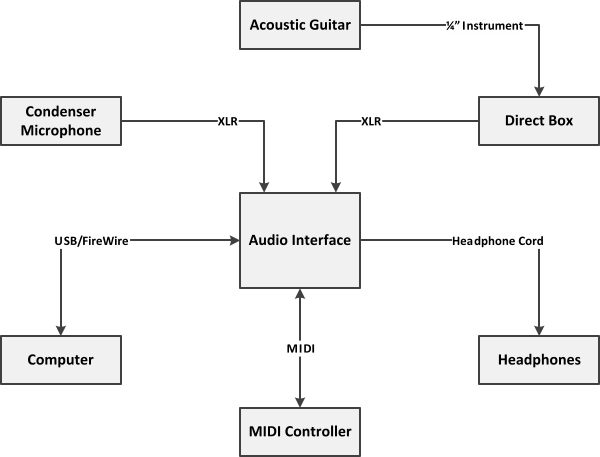 ---