Record Your Music at Home - Guaranteed!
---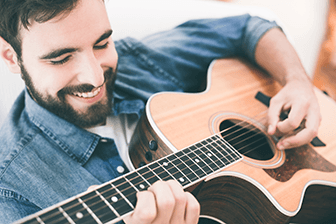 What if today was the day that you finally began recording the music you have imagined?
If you have an instrument and a computer then you are much closer than you probably think.  
My name is David and I developed this guide for those of you who have a desire to record your music at home, but aren't sure where to start, how much to spend, or even if you really want to take on this whole challenge at all.

In other words, if you are a beginner who wants to record your music at home, then this guide was made for you!
My goal is to help you get started having fun and making music with your studio as soon as possible, instead of struggling against an endless current of frustration as I did when I started this journey alone.
To achieve that goal, I'll describe the absolute basics before adding in new concepts, layer by layer.
Together we'll build a studio that is just right for you!
I Know How You Feel - I've Been There Myself
---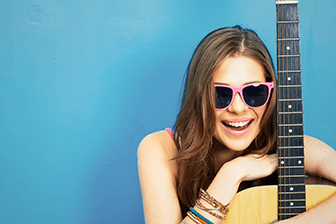 I confess that this can be an intimidating hobby to jump into, and I know how you feel because not that long ago I was in your same position.
I knew I wanted to record my music, I knew there had to be a way to use my computer to do it, but I was hopelessly lost.
Going to the local music store always made me feel awful because I felt like the workers there were judging my every selection, asking me questions I had no idea how to answer, and recommending me things that I felt were more expensive than what I really needed.
Searching online proved to be even worse!
Audiophiles and other "experts" were so concerned with sounding impressive and spouting off technical buzzwords that I actually ended up even MORE confused than I was when I started.
So I abandoned that approach and began reading every book, magazine article, and web page I could find on the subject so I could experiment on my own.
Working by myself, I became frustrated, angry, and overwhelmed, as I ran into one set of roadblocks after another.
In the end I bought a lot of stuff I didn't need, tried a lot of things that didn't work, but most of all, took advice from a lot of people who didn't have a clue what they were talking about.
But even though it was slow and painful, I knew I was on the right track.
Written for the True Beginner
---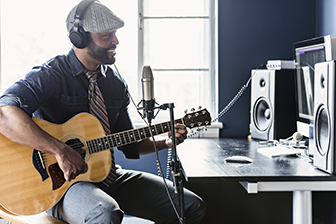 Eventually, after many setbacks, dead ends, and wrong turns, I finally began to connect the dots.
I was so excited that I started this website to share my knowledge and experience with everyone so they could avoid repeating my struggles.
But as much I want you all to read this whole site from end-to-end... I know that 125 unique pages of content is a lot to ask, and most of you won't do it.
But what if I could take just the best lessons and bring them all together in one place.
What if I could develop new, simplified graphics and diagrams that present the concepts in the most straightforward way possible.
And what if this was all in a single downloadable PDF file that could be viewed as easily on a laptop, tablet, or smartphone.
In other words... an easy to understand, easy to use guide focused on the true beginner.
Start with The Basics
---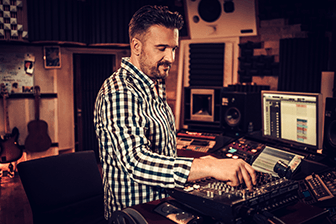 I learned early on that the massive task of building a home recording studio can really be distilled to a handful of concepts and a few pieces of equipment.
With this fundamental knowledge you'll be able to answer questions such as:

Can I record my vocals and instruments at the same time?
What is a Digital Audio Workstation (DAW)?
Do I need an Audio Interface?  If so, what is it used for?
What type of microphone do I need?  
What is the best software for home recording?

Will my current computer be adequate for recording my music?
And many, many more...
Can you figure this all out on your own like I did?  Of course!
But that takes time.  You've already waited long enough, why not begin making the music you love right now?!?
This guide steps you through all the basics to give you the fundamental knowledge you need for a strong foundation. 
From there we get into all the various parts of the home studio, from the mysterious and powerful Digital Audio Workstation (or DAW), to microphones, instruments, headphones, recording software, cables and more.
Then, we bring it all together to record a track together.
When it's all said and done you will be on your way to creating the music of your dreams.
Any genre, any style, any age, any skill level.
You will be recording at the end of this guide.  This I promise you.  

What Topics Are Covered?
---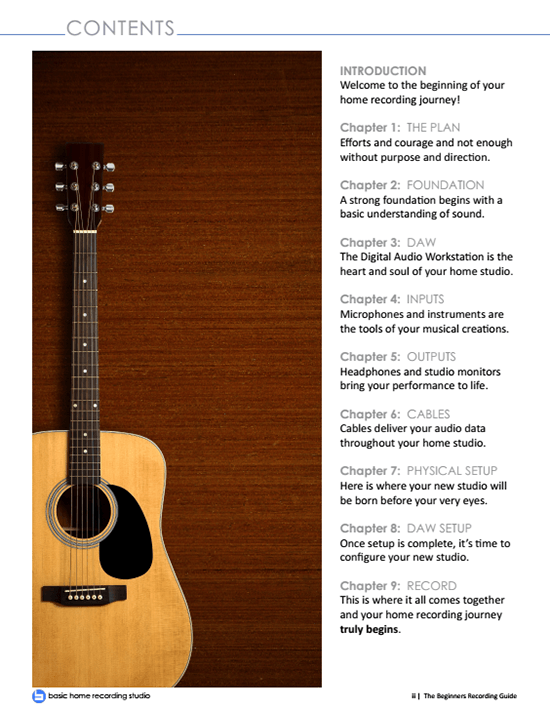 Check out the Table of Contents to see what is covered in this guide:
So What Are You Waiting For?!?
---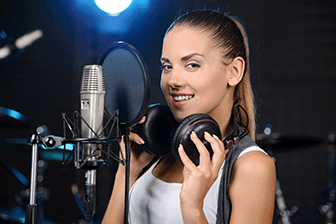 This guide represents only the best, most relevant information to get you started quickly and easily.

Within it you'll find over 50 pages of full color diagrams, motivation, equipment buying guides, my personal recommendations, photos, and detailed explanations that have been designed specially to get you recording as fast as possible.
I've also included 23 action challenges that get you off the sidelines and practicing your new skills and knowledge right away.
These challenges are unique to each chapter and have been custom tailored to give you some concrete, practical opportunities to anchor each lesson in your mind.
You won't find this exclusive content anywhere else because it has been created specifically for you, the first time home recording artist. 
How much would you pay to be done with your search and have the information you need delivered straight to your inbox?
$20 dollars... $30... More?!?
Right now I'm offering the guide to you for only $9.99!!!
Money Back Guarantee
---
You can buy with confidence, because I am so sure that you will be successful in building your own studio that I am offering a 100% money-back satisfaction guarantee.
If you are not able to follow these steps to get recording, then I will give you a full refund on the purchase of this guide.
How can I be so confident?
Because I've done this myself, I've helped hundreds of people with one-on-one setup tutorials, and the simple truth is that this just works.
So if you aren't able to begin your recording journey at the end of the guide, simply email me at refund@basic-home-recording-studio.com to claim your full refund!
There is absolutely no risk.  You have nothing to lose!
But if you'd like to take it for a test-drive first, then check out the Free Download of the first chapter here.
Still Not Convinced?!?
---
Check out what other musicians have said about The Beginner's Recording Guide:

"With no prior knowledge in recording (as well as not being a tech savvy in general) I was skeptical about this book, but just by following the steps in each chapter I was actually able to make my first recording!  Thanks David!!!" - Emily S.
"Thanks to David's "Beginner's Recording Guide" I finally managed to wrap my head around how to set up and record my MIDI controller in my recording software.  What seems like a dauntingly technical task elsewhere is transformed into a straightforward step-by-step approach by David.  An appealing design and the entertaining writing style top it off, and make this a fun and helpful read."  - Yannick W.
"This is a fantastic book.  It fit just where I needed it and I'd recommend it to anyone."  - Doug A.

Release Your Symphony Within!
---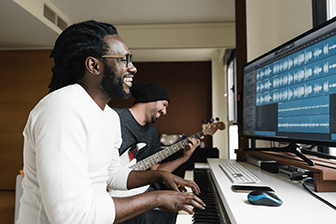 Are you ready to begin recording your own songs?
You don't have to be alone anymore. The days of hopelessness and confusion are over.
My mission is to educate, inspire, and guide your transformation from "Home Recording Dreamer" to "Home Recording Hero".
You have beautiful music inside you, waiting to be unleashed.
So if you are ready to take the next step and start our journey together, click on the "I Want This" button below.
You'll be redirected to my personal sales page operated by Gumroad, where your payment will be processed safely and securely using 128-bit encryption.
Simply enter your email address, credit card info, click "Pay" and you'll instantly receive a link to your Beginner's Recording Guide download delivered straight to your inbox. 
All that's left is to open it up, tune up the band, and Release Your Symphony Within!
---
You Are Here:  Home Page > The Beginner's Recording Guide