MIDI Drums

---
MIDI Drums are a great alternative to miking an actual, physical drum set.
There's no reason the rhythm section for your home recordings need to come from acoustic drums.
The hassle of trying to align several mics at multiple angles, not to mention the additional preamp inputs required to accommodate all the necessary mics, make this an attractive option.
MIDI capability gives you a ton of options to choose from in terms of different drum samples.
But even more than that, being able to edit your drum tracks with just a few clicks of your mouse is a wonderful thing.
New to the whole MIDI experience??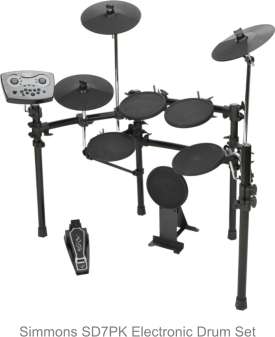 Slake your thirst here with this intro to MIDI Basics and find out what all this MIDI talk is really all about.
...and MIDI is just one of the features that makes these electronic drum kits so slick.
One thing you'll find is that being able to sit down and tap out a rhythm puts you in a different creative state of mind straight out of the gate.
If you haven't had a chance to play around with a full electronic drums kit, then you are missing out on a true delight.
You close your eyes and it's hard to tell that you're not playing the real deal.  I'd highly recommend it.
Don't wait! Stop what you're doing and go find some right now to play with!
The realism and response of these today is staggering, but I'm not much of a drummer myself.  In fact I've been told as much by the employees of a not-so-small electronics retail chain...
And even though I can tell you a lot about how these things fit into your overall studio, I'm afraid I'm in way over my head when it comes to specific advice.
So if you're looking for recommendations, reviews, and other insights into which electronic drum sets would best serve your needs... I confess I don't have the answers.
And that is why I'm so excited to introduce my friend, Yannick.  He knows waaay more about this than I could hope to learn, and has compiled a whole range of useful resources for the aspiring home, e-drummer.
So head on over to his site to hear his thoughts on the best electronic drums.
However, if space is at a premium or you don't feel like learning another instrument, another great option is a drum machine.

Introducing The Drum Machine

---
Don't be fooled by the overused, simplistic versions of these you hear on the "I Love the 80's" Spotify channel (which is amazing, by the way).
These have come a long way in providing realistic sounding rhythm tracks and come pre-programmed with several patterns that be used right out of the box.
Many also have the capability of recording your own patterns manually, putting the versatility of MIDI drums at your disposal.
Still don't think these are for you?
Consider the possibility of using these drum machines as a replacement for your typical metronome during rehearsal.
Metronomes are kind of like flossing... you know you should use it, but it's such a pain that it sometimes gets skipped as part of your daily routine.
Using the drum patterns to play along make it seem less like another boring practice session and more like rocking out like a star. 

It's possible to record these drums as line inputs to you Audio Interface or Mixing Console as well, but then you lose the ability to edit and manipulate the patterns with MIDI.
I'd recommend using the MIDI interface if you decide to record these as part of your composition.
You'll be glad later on when you decide to change tempo or switch out drums patches as part of your tweaking process.
And the biggest benefit of all is being able to practice and record drums without breaking your lease or irritating your neighbors / roommates.
No reason to go homeless just because you want to lay down a sweet beat.
---
You Are Here: Home Page > MIDI Drums