Headphone Buying Guide
---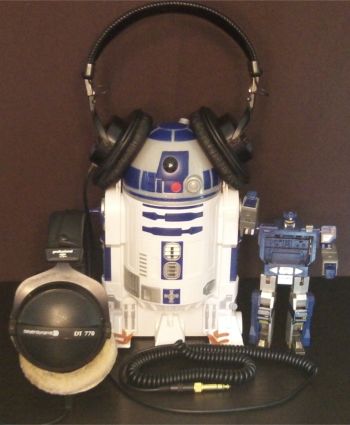 Almost any home recording studio pictures you'll come across (including mine) have studio monitors included in the photo.
While these can be useful, they are not required when first starting out.
All you really need is a good, solid pair of studio headphones to get going.
For example, when this little droid isn't navigating X-Wing Starfighters, he likes to kick back with his trusty pair of Sony MDR V6's.
Meanwhile Soundwave is about to square off against a pricier pair of Beyerdynamic DT 770's, as Decepticons do tend to go all out for quality headphones.
And once again despite everything you read from other reviews, don't get too wrapped up in how they sound.
What?!? Isn't that the most important part??
Here's the thing: Once you get to a certain price point they all sound about the same and I believe the golden spot is ~$100.
Once you get to that level almost anything you choose will work beautifully.
The number one thing, in my opinion, is comfort.  Comfort is King!
You will be wearing these often and for long periods of time, so making sure they fit and are comfortable is essential.
And this is something that is not universally true at a price point.
You'll need to check out a few different brands for yourself to make sure they sit on that beautiful head just right.
You'll have plenty to be frustrated by as you build and begin recording with your home studio, don't let a pair of bad-fitting headphones become part of this chaos.
---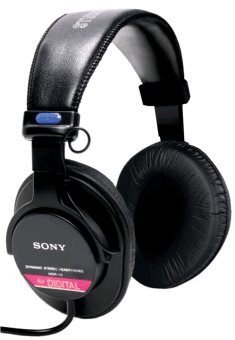 This is my 2nd pair of this style from Sony.
The first I used for years until they started to physically break down after hundreds of hours of quality performance.
Comfortable, great-sounding, and right at $100 I have really enjoyed these in my own studio.
They fit all the way over your ears, have a great feel, and also isolate outside distractions.
In my opinion there's no contest - over the ear studio headphones are absolutely the only way to go.
One feature I particularly recommend is the curly cord that tends itself over long distances.
It reminds me of the cord on home telephones (yes kids, there was a time people had those things tethered to the wall in their homes).
This helps keep the cord from getting all tangled up while you're trying to work.
It also comes with a 1/8" > 1/4" adapter which is essential to hooking these up to your audio interface or headphone amp.
A quality pair of headphones that I highly recommend for someone looking to get started on a budget.
The quality, price point, and brand endurance to put your mind at ease while making this purchase.  
I get asked all the time what pair of headphones I'd recommend, and although many may fit the bill, my answer is easy...
Get These!
---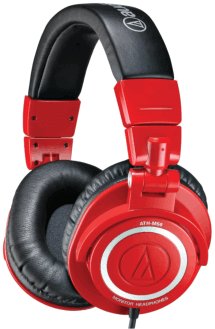 There's no denying the recent trend in colorful, closed ear headphones, but you don't need to spend $300 for some Beats by Dre to get top notch sound quality and style in a single package.
These bad boys from Audio-Technica deliver the goods, but also have the sizzle that is in high demand with trendy musicians world-wide.
Even though sound quality is number one, with comfort as a close second, there's still no reason to be boring.
And at ~$100 these won't break the bank either.
Similar to the Sony's listed above, these come with a coiled cord which is great for keeping tangles at bay.
Also included is a 1/8" to 1/4" adapter so it can interface with both jack sizes, essential for using it both with your mp3 player and audio interface.
Life is too short to be running around in black all the time.
What is this?!?  A musical funeral!!!
The reds ones are shown here, but this same model comes in other colors as well - just in case your set list and sneakers need to coordinate.
Throw some color in your studio style, but do it without compromising on any of the necessities with this set from Audio Technica.
---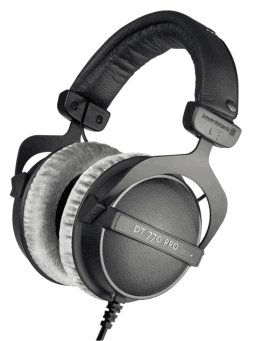 These are a splurge if trying to get a pair retail, but I was able to get a deal on mine on eBay.
These are more than double the cost of what I recommend (~$250) so as a result I can't officially recommend them without sounding like a hypocrite.
But.... if you are able to get these for a bit cheaper you will not regret it.
Even at retail price you won't regret it, but I believe it's too much to pay for a single piece of the puzzle.
Chances are your money will need to spread a bit further if you are truly just starting out.
However, make no mistake about it these headphones are totally bad-ass.
I usually wear a baseball cap when working, and with these on top I literally would forget that I was wearing headphones and stand up with them still on my head.
Super comfortable and great sound response, I have nothing but good things to say about these guys.
Also included in the package is the 1/8" > 1/4" adapter mentioned above.  These adapters can be picked up on their own, but it's a nice touch that they're included in many studio headphone packages.
So basically if a friend has a working pair that they're thinking of throwing out run... don't walk.... RUN over to get them.
Or if you live in Germany and have access to the employee store, make this the number one thing on your list.
Otherwise save the extra money for cables, microphones, or any other of a number of things that you'll need.
But if you have a rich uncle who's been dying to get you that birthday gift... why not give him a suggestion or two?
---
You Are Here: Home Page > Headphone Buying Guide