Studio Setup 1
---
Studio Setup 1 shows the most basic setup for your home recording studio.
It doesn't get much simpler than this.
You will be able to record both acoustic guitar and vocals with this setup.
This option doesn't even require that your guitar have any pickups installed... although it can be easily modified if yours does.
With only one mic, you would have to choose between recording vocals or your instrument to a track at any one time.
This isn't a problem unless you are going for a "live" sound that would need vocals and instruments to be recorded simultaneously.
As with all the diagrams I show here the assumption is that you already have a home computer to use and an instrument to play.
There are very few cables and pieces of hardware required, making this one of the quickest and easiest ways to get started recording.
It's also one of the most restrictive, but if you're just trying this out for a minimum investment then you can't go wrong here.
Recommended for the solo guitarist ready to dip 1 toe into the cooling waters of home recording before doing a cannonball off the high dive.
---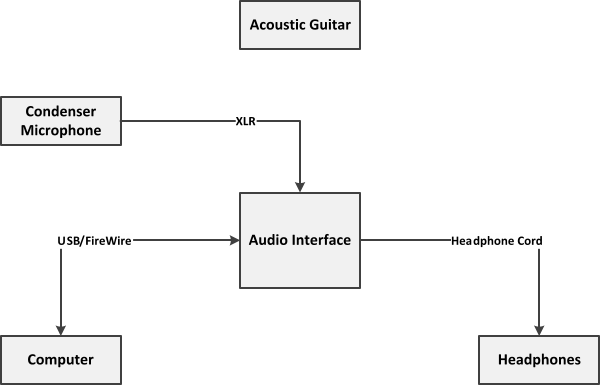 ---