Complete YouTube Setup
---
Everyone seems to be making YouTube videos these days…. why not you?
It's a great way to get exposure for you or your band, show off your creativity with a new cover, or get some feedback on your latest original tune.
Who knows?  It might be your ticket to fame and fortune!
Then you can tell everyone during an interview how it all started with a simple click to Basic Home Recording Studio.
So whether you have aspirations of super stardom, or just simply want to make a nice sounding recording to post...
Don't be at the mercy of your video recorder's cheapo, built in microphone, and don't feel like you need anything exotic or expensive.
If you're ready to record yourself at home then you are so close to putting high quality content on YouTube already!
Here's all you need to rock out the internet today!
Required Gear Checklist (Prices Approximate):
$270 Roland Quad Capture USB Audio Interface
$100 Shure SM58 Dynamic Microphone
$100 Sony MDR-V6 Studio Headphones
$40   LiveWire Double Shielded Passive Direct Box
$25   LiveWire Advantage EXM Microphone Cable (15')
$25   LiveWire Advantage EXM Microphone Cable (15')
$15   LiveWire 1/4" Straight Instrument Cable (15')
Grand Total ~ $575
---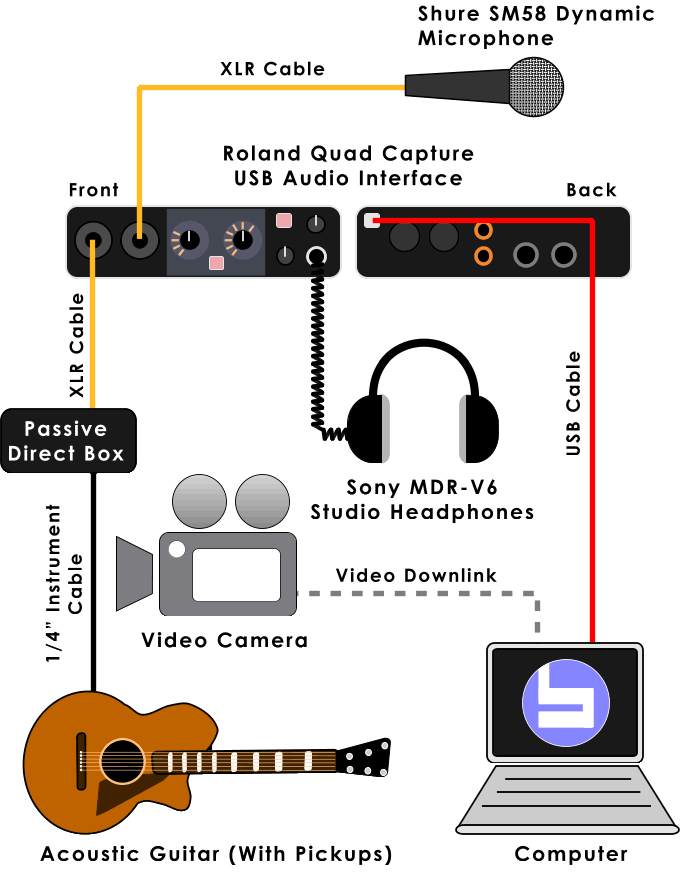 ---