NAMM 2015
---
Another year - another hectic, epic NAMM convention.
This year the National Association of Music Makers seemed to take the extravaganza to the next level. 
The only thing more overwhelming than the sheer number of presenters and products was the sheer number of make-up wearing, vampire-looking, rock & rollers running around the show floor.
At first I thought I'd stumbled upon the "Dave Navarro Look-Alike World Championships".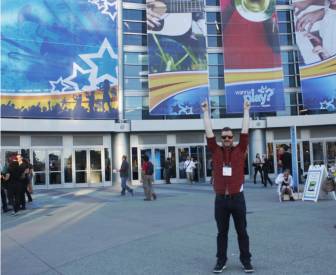 But in any event, I was able to get my hands on some of the new gear that will be debuting in 2015.

I also got the chance to speak with the company representatives about how these tools will help in building your next generation home recording studio.
There was an overload of everything from saxophones and stage lighting to digital pianos and guitar pedals, but I kept my focus this year on audio interfaces.
Plus I wanted to stay far, far away from the acoustic drums / cymbals booths...
You can not possibly put down in words the outrageous clamor that comes from 100 drummers at 100 drum sets, each one trying to impress the ones to his or her left and right.
It must simply be experienced once... and then never, ever again.
But that's enough jibber-jabber… let's have a look at what's new from this year's show!

PreSonus

---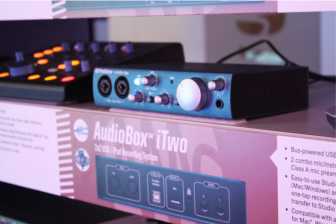 Although presonus didn't have any new prodcuts to show-off, I was still able to get a hands on impression of the Audiobox iTwo interface (MSRP $200).
For anyone who's seen my audio interface reviews or read through the recommended audio interface article, it should be no surprise that PreSonus consistently produces some of my favorite products… and this one is no different.

As devices such as iPads become more and more available while providing more and more capability, it's only a matter of time for recording device manufactures to take advantage of this.
Why is this a big deal?
Not only can they save costs by using an operating system and screen that is already top-notch, but the highly portable systems they can develop are appealing to musicians on the go.
Of course, none of it matters if the interface feels like it's going to break apart in your hands.  
That's why one of my favorite things about this unit (and other PreSonus products for that matter) is that it really feels good and sturdy, not like a cheap plastic toy.
It's a small detail that doesn't go overlooked to me as the market for home recording interfaces continues to grow.
I'm excited to see how this plays out, and the reps I spoke with hinted at a big announcement later this year for the next generation of one of their most popular recording systems.
Stay tuned for more from our friends at PreSonus.
Tascam
---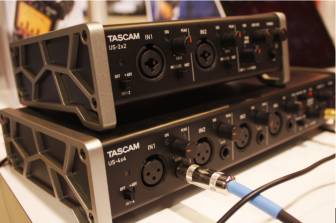 Tascam also brought some soon-to-be-released products to the party.
The US-2x2 (MSRP $150) and US-4x4 (MSRP $250) are the next generation, building on the highly-successful US-322/366 series.
I'm looking forward to getting my hands on one of these in my own home studio so I can give it a more thorough look, and do a more comprehensive review.
I was a big fan of the US-366 and felt that for some reason it never got the love that it deserved.  
They also had their DR-44WL and DR-22WL on display for any aspiring interviewers or podcasters in the house.

The 90 degree offset mics offer an excellent way to capture audio on the go, but could just as easily be adapted to a musical demo or jam session that you want to keep a record of for later.
These tools offer musicians more options than ever to record your music on your terms.
Focusrite

---
The new addition to the popular Focusrite's Scarlett line of audio interfaces is the Clarett interfaces due out this year.
These interfaces will use a Thunderbolt interface for ridiculously high throughput data capability.
This should drive latency down to undetectable levels (below 1 millisecond!!!), so I'll be very anxious to test drive this one when it's available and see if this is really true.
It will also feature 24-bit depth and 192 kHz sampling rates.
Combine that with the overall quality I've seen in Focusrite's previous products and you have what seems to be a killer combination.
In other words this thing should kick all kinds of ass.
The controls on the demo units were the same high quality seen in the Scarlett series - definitely a highlight of the show for me.

And just like PreSonus with the Audiobox iTwo interface, Focusrite looks like they are ready to make a strong push into this market as well.
The iTrack Dock, which harnesses the power of your iOS tablet device, offers more controls and options on the hardware side to provide a portable and powerful recording option.

As I mentioned earlier, I think this is going to emerge as a huge market for audio manufacturers as it's becoming harder and harder to justify a stand-alone computer.
The truth is that our "phones" (which are almost exclusively used not for phone calls anymore) are so powerful and widespread that it makes perfect sense to branch out to this kind of technology.
Check out my previous review of the iTrack Pocket to get a feel for what this option can offer to the home recorder.

That's All Folks
---
So those were the highlights from my trip to the show this year.  
It's always fun to checkout the new gear and meet folks who work for the brands, and I'm looking forward to heading back to Anaheim next year to check it out again.
Maybe next time I'll rent a golf cart to zoom from booth to booth since I'm still recovering from walking the equivalent of a marathon from end to end of the Anaheim convention center.
But I had a blast and hope that you enjoyed this brief look at what's new and improved in the world of basic home recording.
If you have any questions, comments, or requests for new products to review hit me up on the Facebook page here.
Next years show is right around the corner!
Special thanks to my lovely assistant Emily and my intrepid photographer Michael for making this coverage of the show possible.

---